This is my first attempt at something other than a tornado outbreak, so bare with me
During the years of 2022, 2023, and 2024, an event like no other struck the ENTIRE United States, unleashing total chaos upon the country. With snow accumulation up to 88 inches, and entire summers with temperatures below freezing, the northern hemisphere was rattled with Satan's snow. Snow drifts were up to 25 feet in some places and power outages were reported for 160,000,000 people. It truly was an event to remember.
Summer/Early Fall 2022
The summer/early fall months were very calm for the United States. In July, 70-90 degree weather was all over the United Stated. Heavy Rains occured often, with Oklahoma reciving up to 5 in of rain on July 19th. An outbreak of tornadoes struck Kansas on the 27th, killing 4 people. No snow was reported for any part of the US, except for Alaska and northern Minnesota. On September 28th, 2022, 3.2 in of snowfall was reported for northern Minnesota, including Bemidji.
Mini Snowfall of September 28th
On the night of the 27th, temperatures were decreasing at an exponential rate. At 9 PM it was 56 degrees, at 12 AM, it was 35 degrees, and it stayed below freezing for the entire rest of the night. In the morning, northern Minnesota was experiencing light snowfall, with 0.5 inches being reported as of 8 AM. The snow accumulation kept increasing up into the afternoon with 3 in of snow on the ground as of 12 PM. The snow-storm weakened as the day kept on going, with the snowfall stopping at around 6 PM. The snow stayed on the ground until tomorrow afternoon, where temperatures of 50 degrees melted it all. Nothing unusual for Minnesota weather.
Winter Storm of October 12th-14th
The northwest and midwest US recived a small snowstorm that lasted up until the 14th of October. On the evening of October 11th, temperatures in South Dakota, North Dakota, Wyoming, and Nebraska dropped to below freezing, with a low of 8 degrees for South Dakota. At midnight, snow began to fall in 3 states excluding Wyoming. The snow came down harder as time passed. A pileup occured on I90 when 12 cars crashed on the icy snowy roads 20 miles from Rapid City. At 3 AM, a small power outage that lasted for an hour occured in Grand Island, Nebraska. On the morning of October 12th, snowfall of up to 4 inches was visible in central South Dakota. Meanwhile, Wyoming was experiencing heavy snowfall that was going on and off throughout the afternoon, with Gillette experiencing snow accumulation of 1.5 inches. By the 13th, half a foot of snow was visible in Rapid City and nearby places. The storm moved south very slowly, causing northern Nebraska to recive snow of up to 5 inches. The snow stopped in the early morning of October 14th. Temperatures were back in the 40s. Still quite usual for the northern states.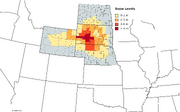 November 2022 - The Cold Begins
As early as November 3rd, temperatures around the US began to plummet. Not much at first, but in some places like Florida, the temperature was in the 50s, which was a bit unusual for the "sunshine state". The lowest temperature for Florida in November was 31 degrees, causing damage to crops and nature in itself. In fact, the entire southern US was experiencing temperatures below freezing. San Antonio, Texas, was having temperatures of down to 15 degrees. This weather was seen all over the US. The western Rocky Mountain states had similar temperatures, with Colorado having consecutive lows of 12-14 degrees.
Winter Storm of November 20th-30th
On the week preceeding the 10-day blizzard, a long cold front streched from Colorado to Kentucky. It went as far north as Iowa and as south as Texas and New Mexico. This cold front would soon become the snowstorm that caused snowfall of up to 20 inches.
November 20th
On the morning of November 20th, temperatures all over the US were below freezing. Especially the south. Oklahoma was struck by the coldest temperatures, with lows in the negatives. Ice was already being seen in Oklahoma City and Tulsa, causing numerous car accidents. Then, snow began to fall. By 6 AM, snow totals in OKC were up to an inch. The snow spread even more as the storm got bigger. By 12 PM, Oklahoma had over half a foot of snow on the ground. The same went for Texas, Kansas, and southern Illinois. Snow was seen even in New Mexico. Santa Fe and Albuquerque both had at least 1-6 in of snow on the ground. In Amarilo, TX, roads were filled with 6 in of snowfall. The snow would only get worse later on.
At night, there was a break in the clouds as the sky went clear for the day. Although, temperatures were still below freezing, so the snow didn't go anywhere. For the entire night, no more snow fell. But it wasn't over.
Snowfall totals for November 20th, 2022
Oklahoma City: 6.2 in
Tulsa: 6.0 in
DFW Area: 5.7 in
St. Louis: 5.5 in
Amarillo: 5.5 in
Kansas City: 4.9 in
Birmingham: 4.7 in
Shreveport: 3.3 in
Albuquerque: 3.1 in
Santa Fe: 2.9 in
Lubbock: 2.5 in
November 21st - 23rd
On these days, no new snow fell on the ground. But that did not mean that any snow melted. In fact, in the midwest, it got colder. The lowest temperatures observed that day were in northern Texas and Oklahoma. It was during these days where the power was cut off in some places. Like in the outskirts of Oklahoma City and the DFW Area. During the night of November 21st, 10,000 houses all over the midwest were without electricity.
The weather stayed like this up until the late night of November 23rd, which was the day before Thanksgiving.
November 24th
On this day, the snow started back up again, only stronger and heavier. At 2:30 AM, a power outage was reported for Birmingham, Alabama due to snow on the power lines. By now, Oklahoma City had up to 10 inches of snow as people got ready to go to work. Highways were clogges with cars and a pileup occured on I40 at 7:25 AM. Where there wasn't snow, there was freezing rain. In Chicago, this freezing rain froze on everything it could find, including roads.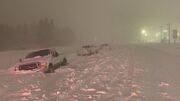 In St. Louis, snow and ice were beginning to cover the Mississippi River, so much that people could walk on it and not fall in the freezing waters. All over the midwest, flights were beginning to get cancelled, schools also closed. In the evening, as people got back from work, snow plows were cleaning snow off the roads in Texas, Oklahoma, Kansas, Arkansas, and Alabama.
Remainder of the Winter Storm
From the 25th to the 30th, the snow still came down, but not as intense as it did on Thanksgiving. Snowfall amounts in Oklahoma were beginning to total to almost 20 in. More and more power outages were reported. One in Chicago due to ice on the power lines. Multiple due to snow on the power lines. Also, the temperature was beginning to rise slowly again. From lows of -8 degrees on the 20th, to lows of 15 degrees on the 28th. The snow stopped on the 28th, and then on the 29th, the snow began to melt a little. Then on the 30th, most of the snow was gone, and people could live normally again.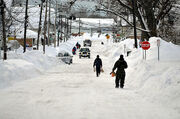 Early December - A Short Break From the Cold
From December 1st to the 13th, there were very mild temperatures in the US. Even in Minnesota, temperatures were up to 55°. 60°-65° weather was in the midwest as usual, and everything looked normal, for now. It would soon get colder again.
December 14th Ice Storm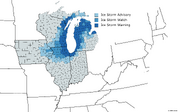 On the evening of December 13th, temperatures began to plummet once again. And on December 14th, at 5 AM, warnings were issued for residents of Illinois, Iowa, Wisconsin, Indiana, and Michigan. Then it began to rain. The rain quickly froze as it dropped from the sky, covering roofs, power lines, and roads. The rain froze in such places as Chicago, Milwaukee, and Saginaw. The ice accumulated and covered trees and grass, damaging crops. Slick roads also caused trouble when commuters go on their commute to and from work. This freezing rain continued up until the night, where the ice stopped. But, the ice did not fully melt away until that morning. On the afternoon of the 15th, temperatures were mild again, with 45°-55° weather.
Mid-to-late-December - Round 2 for Coldness
These last remaining days of December proved to be cold ones. And another winter storm hit the western US, causing 40 inches of snow in places like Arizona.
Winter Storm of December 21st-23rd
On the week preceeding this blizzard, it became cold in the western US. Places like Phoenix, Arizona had temperatures of 25°. This also went for New Mexico, Nevada, and California. The coldness spread to the northwest too. Seattle had consecutive lows of 20°. Cold temperatures were felt as far east as Arkansas. There were even reports of below-freezing weather in Mexico.
On the morning of the 21st, it began to snow very hard in the entire western US. The most intense snow was seen in Texas, New Mexico, Colorado, Utah, and Idaho. In salt Lake City, there was already half a foot of snow by 10 AM. It only got worse from there. The following afternoon was a snow-filled mess. Visibility was close to none. For this reason, many pileups happened. Multiple on I40, I25, I70, and I80.
In Amarillo, 500 houses were without power already, and more power outages continued. The snow gave no mercy as it slammed into places like Albuquerque and Santa Fe, stronger than the last storm that hit it. The evening came around and the sky looked lighter than it did because of all the snow falling. Roads in Denver were shutting down and travel was getting more risky and risky as time went on. The Great Salt Lake in Utah began to freeze over due to sub-zero temperatures.
In the early morning of the 22nd, snow still fell on the ground, but weakened as the day came. There was about 40.3 inches of snow in Salt Lake City at the time, making the city look unrecognizable. It continued to snow until evening although it took the snow a few more days to melt fully, especially in places that had more than 36 inches of snow on the ground.
Snowfall Totals for the Winter Storm
Salt Lake City: 40.3 in
Grand Junction: 38.2 in
Santa Fe: 34.4 in
Evanston: 30.4 in
Amarillo: 28.7 in
Twin Falls: 26.6 in
Pocatello: 24.8 in
Albuquerque: 18.5 in
Rapid City: 16.7 in
Abilene: 15.2 in
Denver: 12.1 in
Boise: 9.3 in
Moab: 9.1 in
DFW: 4.8 in
Fort Sill: 3.9 in
Waco: 2.7 in
Las Vegas: 1.8 in
Phoenix: 0.9 in
Sacramento: 0.7
San Fransisco: 0.7
Los Angeles: 0.5
San Diego: 0.4
New Year's Eve Winter Storm
After another period of mild temperatures in between winter storms, another one hit the eastern states. In Tennessee and North Carolina, lows were at 10° by December 30th. That night, the coldness was felt around the entire eastern US. Below-freezing temperatures were felt as far north as Maine and as far south as Florida.
At around 9 PM, it began to snow, and it snowed hard. What was strange about this storm however, was that it snowed as far south as Tampa and Orlando, those places not being used to snow. Most of the power outages were in the southern states. Atlanta would have one of the highest accumulations of snow during this winter storm. A lot of snow was also seen at the Missouri-Illinois border, including St. Louis.
At morning, snow in Knoxville was up to 14 inches. In Atlanta, 10 inches. Meanwhile, in Pennsylvania and New York, snow was there as well. 8 inches were visible in Philadelphia.
Wind chill made it so that it felt like -10° in some places. At 6 PM on December 31st, a power outage was reported for the entire cities of Atlanta, Knoxville, and Asheville. Soon after, the snow stopped, but remained there until January 2nd, 2023.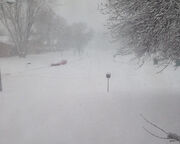 January 2023 - Winter Lover's Dream, Summer Lover's Worst Nightmare
After the New Year's storm, life was slowly returning to normal. In Georgia, it was around 60-70°. It seemed that everything was in its right place after almost half a year of cold. But as it turns out, the people were wrong once again.
On January 5th, temperatures became very mild. A huge cold front was moving south into the US from Canada. Soon, this cold front would turn into yet another winter storm, leaving the people wondering when will the artic madness end.
January 7th - 10th Winter Storm
On January 7th, 2023, the cold front that was currently in the midwest caused snow to be on the ground. The heavist hit places were Wisconsin and Michigan. In Detroit, wind gusts were at 45-50 mph, causing zero-visibility weather for the city. Travel on roads and planes were immediately discouraged and barely any cars were seen. In other towns, they outright banned nonessential travel. The most snowfall seen was in Traverse City. The town got 54 inches of snow, causing power outages and a reported roof collapse.
Roofs collapsing became a problem for Michigan and Wisconsin towns and cities. As time passed by, more and more snow piled up on the roofs and they collapsed. This caused $2 million in damage.
The next two days were the same as the 7th. Lots of snow, zero visibility, travel discouraged. One incident occured when a car was driving on I-75 in Michigan. No other cars were on the road. The car soon got stuck in the snow, and the people there were buried in snow. Snow in Detroit was causing power outages for the city's suburbs. In Farmington Hills, the power was lost for 2 days after the blizzard ended.
On the 9th, it snowed less, the cold front weakening. Some of the snow in Illinois, Ohio, and Indiana stopped and soon melted. Although it took longer for the snow to stop in Michigan and Wisconsin. The snow completely stopped on the 10th, and the days after, the snow melted and mild temperatures came again.
Mid-January Cold
In mid-January, there was no snow reported for any part of the US. However, there was another problem, the cold. It got much colder during January than any other month. Temperatures even in the southern states had consecutive lows of -15° - -20°. One time in Minnesota it was so cold, many lakes froze up entirely, so much that cars could be driven on them.
Temperatures finally got mild on the week of January 22nd. But it wouldn't last for long.
January 28th - 30th Winter Storm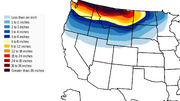 On the evening of January 28th, snow began to rapidly fall in the northwest US. Washington and Montana got the most. In Seattle, 6 inches of snow were on the ground in the first hour. Similar conditons were in nearby Tacoma. In Spokane, it was a little worse. By 11 PM, 3 hours after the snow began, a foot of snow was on the ground in Spokane. The snow got worse and worse as time went by. Travel in Seattle, Tacoma, and Spokane was banned unless it is essential.
Meanwhile in Vancouver, the worst snow hit. 2 feet of snow was on the ground in Vancouver. Although Canada recieved the most snow, the US had the most rapidly falling snow, it just stopped sooner than in Canada.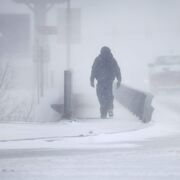 On the 29th, snow was still falling rapidly, causing zero visibility conditions. It would soon stop snowing but snow would stay on the ground until the afternoon of the 30th.
Feburary - The Cold Spreads
In Feburary, more and more winter storms formed all over the world. It was a world wide polar outbreak.
Canada Super Storm (Feburary 3-15)
In early February, the southern U.S. was at a mild point, apparently being spared any other storms for the next few weeks. For Canada and the northern states however, the same cannot be said. In the late night of February 2nd, meteorologists spotted a new storm formation in Alberta, Canada. It was rapidly expanding and the results could be seen at around 2:00 AM, where forecasters predicted snowfall to begin. It did, primarily in Alberta, Saskatchewan, and British Columbia. After 15 minutes, places like Edmonton, Calgary, and Fort McMurray had up to 5 inches. Not too soon after, a winter storm warning was issued for most of southwestern Canada, where the storm hit the heaviest. The now blizzard continued into the morning of February 3rd, where it went from a localized storm to a country-wide blizzard. Smaller portions of the storm hit Quebec and Ontario, where snow had gathered up to 4 inches. For the west however, some parts already had up to 10 inches of snow. By 4:00 AM, roads and highways in Alberta and Saskatchewan were covered in a foot of snow.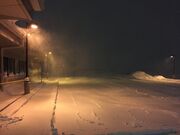 In the morning, the snow stopped briefly until the 5th. By now, most of Alberta, British Columbia, and Saskatchewan were under a foot of snow. There were some power outages, but since Canada is used to winter storms, there weren't that many. Still, some 1,000 homes were left without power because of the first burst of the super storm. Meanwhile, in eastern Canada, snow was still lightly falling. In Toronto, snow accumulation was only up to about 2.5 inches, which was dwarfed by the foot of snow the west has to deal with. But what was seen all over Canada in the inter-storm period, as it was called, were very cold temperatures well into the negatives. On the 5th, at noon, the average temperature in southwest Canada was about -18°. As a result, pipes filled with water froze and bursted soon after, causing millions of dollars in damages.
On the evening of Feburary 5th, the snowfall started again. This time, even heavier than last time, causing much more damage. By nighttime, the storm had moved far away from eastern Canada that there was barely any snow. For the west however, the storm has just begun. In Alberta, highly concentrated amounts of snow fell in a very short amount of time, weighing down on power cable and roofs of houses, causing even more damage. At 12:00 AM, the cities of Edmonton and Calgary cut their power supply to save energy, leaving hundreds of thousands of families in the dark for days. This combined with nighttime temperatures close to -30°, some people actually died from the intense cold. This chaos lasted for the next 10 days as the snow gradually came to a stop on the 15th. This storm, that later became known as the "Canadian Super Storm", broke multiple records for how widespread and costly it was. Damages were about 132 million Canadian Dollars. It truly was a super storm.
Feburary 7th - 12th Winter Storm (Mexico)
THIS IS A WORK IN PROGRESS