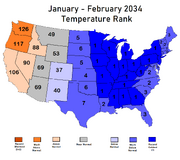 The super winter of 2033-2034 was a weather event that occurred in the Eastern United States. Beginning in December 2033 and lasting until March, it produced one of the coldest winters on record in all states east of the Rockies. The Midwestern United States, Great Lakes Region, Ohio Valley and Mississippi Valley were hit the hardest. Only the United States from the Rocky Mountains and westward escaped its effects.
January 2034 was the coldest month on record in the contiguous U.S, narrowly eclipsing January 1979. It was also the coldest month ever for Arkansas, Illinois, Indiana, Iowa, Kentucky, Michigan, Minnesota, Ohio, Tennessee and Wisconsin. While the winters of 2024-25, 2025-26 and 2026-27 being three of the coldest on record for the Great Plains and Ohio Valley (very reminiscent of the winters of 1976-79), the winters following were much milder. The winter of 2029-30 was very mild winter across the upper-Midwest (the mildest since 1877-78); the winter of 2031-32 in the northeast and New England; 2028-29 in the Western United States and 2032-33 in the Southeastern United States.
Many areas also saw snowfall and temperature records which stood for decades obliterated within a matter of weeks from late-December to early-February. There were three separate category-five RSI snowstorms (December 19-22 and January 4-7 in the Ohio Valley and January 15-18 in the Northeast) and three category-four RSI snowstorms (December 23-26 in the Northeast and February 5-7 in the Southeast). There were also multiple cold waves with the most severe being the January 10-14 cold wave which saw sub-zero temperatures stretch as far south as southern Georgia and Alabama and freezing temperatures stretch as far south as just south of Miami. While the Great Lakes region was suffering from drifts as high as 50-feet in some remote locations, the Ohio River Valley with snow depths of up to or more than two-feet and the Deep South experienced bursting water mains and frozen pipes and fountains. Overall, the amount of disruption in economic activity, transportation and damage to the nation's infrastructure caused by the winter weather in the eastern half of the United States cost the nation roughly $500-billion.

Summer and Autumn 2033
Weather conditions during the months leading up to the winter were actually rather warm. The following summer was the warmest on record in the city of Chicago averaging 77.1-degrees with thirty-eight 90-degree days and five 100-degree days including a record 13-consecutive 90-degree days from June 26th to July 8th including a record high 105-degrees on July 4th followed by a 104-degree high on the 5th. Grand Rapids, Michigan also had a record warm summer averaging 75.0-degrees and in Muskegon the average temperature was 72.8-degrees. It was the warmest summer on record statewide for Michigan, Illinois, Wisconsin and Indiana, while it was also one of the wettest year on record for South Dakota and Nebraska ironically. In the city of Chicago June averaged 73.6-degrees (the fourth warmest on record) while July averaged 80.5-degrees making it the fourth warmest on record and August averaged 77.0-degrees (making it the second warmest July-August period on record behind 1955). While the Great Plaines saw a wet period of warm and humid weather, the Great Lakes region saw a much drier pattern. The weather from June 26th to September 17th only produced 6.07" of rain for Chicago and 5.19" for Milwaukee after a period from February-June that was above average in precipitation. During the summer of 2033, from June through August, Chicago recorded a total of 34 days with temperatures going to 90-degrees or more and 6 days with temperatures going to 100-degrees or more. There was a slight drought in the Gulf Coast, a moderate one in southern Oklahoma, Oregon, Utah, New Mexico and northern Texas, a severe one in California, southern Oregon, Nevada, western Arizona, Wisconsin, Michigan, Northern Illinois and Indiana. However, conditions were rather wet in Nebraska, North Dakota, Northern Minnesota and Western Iowa.

On September 13th, derecho launched wildfires broke out in Wisconsin and Michigan were 353,000 acres burned up before a downpour from the remnants of Hurricane Gavin merging with the jet stream (which landfalled in Freeport, Texas as a category 3 hurricane) delivered up to 3-8" of rain across most of the region drenching the fires and helping end the drought. This was followed by a cooler period of weather that lasted until October 17th when the mild weather returned, and the following November was one of the mildest on record averaging 47.8 degrees in Chicago and being the mildest on record in Indianapolis. Chicago didn't even record its first sub-freezing temperature until November 13th, a record late date by five days. The city received their last 90-degree day on September 15th, last 80-degree day on October 24th, last 70-degree day on November 16th.
Winter of 2033-2034
Prelude to the Snowzilla of 2033 and the Cold-Wave of 2034
The period form December 1st to December 9th was one of the mildest opening 9 days of December on record as in the city of Chicago the average temperature for the first 9 days of the month was 45.8-degrees and not once did the temperature ever drop below 35-degrees, meanwhile in Minneapolis they recorded 4.4" of snow during that period and a low of 23 degrees on the sixth. The Great Lakes also remained warm to with the water in Lake Erie at Buffalo recording a 50 degree reading on December 5th, its latest 50-degree reading ever beating the previous record of November 29th set in 1931. A cold front passed through the region on the 10th delivering the city its first snowfall of the entire season of just 0.1" its latest on record beating 1999's record of December 7th.
The seasonably cold pattern persisted for just under a week with the coldest day being December 13th with a low of 4 degrees in Chicago with a high of 20 a low of 2 degrees in Milwaukee with a high of 18, -3 in Madison with a high of 10 and -10 in Minneapolis with a high of 6, during the following day a warm front passed through delivering 0.6" of snow to Chicago and 1.2" to Milwaukee before causing the high the next four days to rise to 30, 36, 45 and 57 in Chicago; 28, 32, 39 and 50 in Milwaukee, 10, 18, 25 and 39 in Minneapolis. On December 18th, the city of Milwaukee broke their record high set in 1877 with a temperature of 61, in Chicago they tied their record with 62 degrees and 70-degree temperature penetrated as far north as Indianapolis, Springfield, Illinois and Pittsburgh, Pennsylvania. This caused the water temperature of Lake Erie at Buffalo to decrease from 49 degrees on December 8th to 42 degrees on December 13th. That day there were tornado warnings across six states (Missouri, Illinois, Wisconsin, Indiana, Kentucky and Michigan). On December 10th weather forecasts began calling for a massive snowstorm on the 20th and 21st, as a result of advanced weather satellites launched in 2029, but it became seen as a joke as a series of 50-65 degree days began passing by on the 17th to the 19th. On December 17th a cold front passed through Minneapolis giving the city 5.3-inches of snow. Meanwhile the lake temperature of Lake Erie at Buffalo increased from 42 degrees on December 16th to 44 degrees on December 19th. The system also generated a tornado outbreak as it moved across the Midwest. One of these tornadoes was an EF5 that hit Fort Wayne, Indiana. This tornado was obscured by heavy snow, making it extremely difficult to see. Frost and ice were sucked into the vortex, and turned into dangerous projectiles.
Blizzard of 2033
Tuesday - December 20th
Although, that night the temperature plummeted in St. Louis from 65 degrees at 10pm to 37 at 10am with a high of 40 as a cold front passed with a high pressure of 1028mb centered around the Nebraska-Colorado-Kansas state line around noon followed by an artic high pressure system centered in Southern Manitoba. December 19th in Chicago began with more of the usual, a morning low of 48 climbing to 53 degrees by 9am before the temperature suddenly stayed there and the skies got increasingly cloudy as the cold front was approaching and the temperature would lock in at 53 degrees until noon when it would start to slowly drop to 35-degrees by midnight and during which time the city would see 0.33" of rain, sleet and ice. By midnight the system of cold air was centered halfway down the Kansas-Colorado state line and a system of low pressure 1005mb formed around Houston along the cold front which began traveling up the front to where it bended around central Illinois and slowly heading south, during which time it was snowing in Western Iowa and Northwestern Missouri along with southeastern Missouri.
Tuesday Morning
On Tuesday, December 20th, residents in the Chicago area woke up around 7am to 36 degree temps, partly cloudy skies and 20-mph winds. Many businesses remained open as commuters headed to work and flights continued to pour in as people wanted to visit their families before the storm set in but the system was hampering flights west and southwest of Chicago. The temperature in Chicago peaked at 37 degrees at 8am before clouds set in and it dropped to 29 degrees by 10am with freezing rain starting to fall before as the temperature slowly began to crawl up again peaking at 33 degrees by noon as winds increased from 17-mph to 23-mph with gusts of up to 40-mph.
Tuesday Afternoon and Evening
By the time the precipitation switched to snow (at 12:08pm) in Chicago 0.31" of sleet and freezing rain had already fallen making the snow easier to stick to the ground and by 1pm 0.8-inches of snow had already fallen more than the entire winter so far. The low pressure of the system continued to deepen as it head north along the track of the front attracting cold dry air from the north and northwest and warm moist air from the south, deepening to 996mb by noon. By 3-pm O'Hare and Midway Airports were completely shut down and this is when most schools let out as 2 to 4 inches of snow had already fallen across the Chicagoland area and it was continuing to come down hard with winds of up to 33-mph and visibility down to a quarter-mile. By 5pm, when most workplaces let out as 4 to 6 inches had fallen across the area and this is when the storm picked up in intensity as over the next hour winds increased from 25 to 35-mph, gusts went from 35 to 45mph and the snowfall rate reached its heaviest point yet during the height of rush hour as between 5 and 6pm 2.1-inches of snow fell completely stalling traffic in its tracks as traffic times were starting to surpass 5-hours. By 6pm the pressure had deepened to 988mb and the storm was in a perfect comma shape moving at around 2-mph in an eastbound direction. At 7pm the temperature in the city dropped from 32 to 31 degrees being the last 32-degree reading the city would see for the next several weeks. By 8pm many vehicles were getting trapped on the roads as 8 to 11-inches had on the area fallen in around 8-hours reducing street cleaning abilities and the gusts were starting to surpass 50-mph. By 10pm, 11.8-inches of snow had fallen at O'Hare Airport officially becoming the snowiest December day in the city's history surpassing December 11th, 1903s record of 11.0-inches. By this time it was estimated that up to 2,500 vehicles and 100 busses were stuck along Chicago's roads, and many people began walking home by foot abandoning their cars despite smart-device warnings not to. Many self-driving cars had issues as well with the snow ruts in the roads and this caused many transmissions to burn out and many electric cars had issues as well getting overheated. In Southern Illinois and Indiana freezing rain created major travel issues for holiday travelers and downed many power lines where only those with solar panels remained with power before the freezing rain switched over into snow. A violent tornado also struck Fort Wayne, Indiana. This tornado was obscured by heavy snow, making it extremely difficult to see. Frost and ice were sucked into the vortex, and turned into dangerous projectiles.
Wednesday - December 21st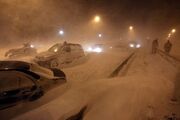 By midnight 14.1-inches had fallen with a total depth of 12-inches as the storm continued to deliver snow to the Chicagoland area at rates of 1-2 inches an hour throughout the night and many people still hadn't made it home from work since the night before. Many people who worked from home didn't have any commuting issues and continued their workday as usual, and many schools who were scheduled to have their last day of school before winter break that day did so online through virtual chats. Temperatures in Chicago remained virtually stagnant throughout most of the day peaking at 31 degrees at around 4am before dropping to 29 degrees by 6-7am ironically around the coldest time of the day. The temperature rose again to 31 degrees from 10am to noon before slowly starting to drop. During that morning around 6am, the storm finally started to move eastward again around 5am the snowfall rate started to slowdown, and by 6am, 23.1-inches had fallen at O'Hare Airport making it officially the largest snowstorm the city had ever seen breaking the 23.0-inch mark the Big Snow of 1967 set on January 26-27, 1967. Rescue crews had been dispatched getting people out of their stranded cars or at shelters and many of the plow drivers were starting to get fatigued from working nonstop since noon the previous day along with self-driving plows starting to run out of battery power. After 7am, the snowfall rate had finally dropped to under an inch an hour after 24.2-inches had fallen at O'Hare and 26.8-inches at Midway Airport. But the winds were not dying down and snow was falling at the rate of 0.3" to 0.6" an hour between 7am and 2pm, as a matter of fact winds were peaking around the end of that as the storm started to very briefly reverse direction being blocked by a warm front over the Florida Peninsula and the storm was getting squeezed by the artic front whose high pressure was divided in two one center over Fargo at 1036mb and 1032mb over Ontario. At noon Chicago shattered its previous 24-hour snowfall record of 20.0-inches set on February 1-2, 2011 by over half a foot at 26.5-inches. The temperature began to slowly fall after 12pm to 30-degrees then to 29-degrees by 5pm then 28-degrees by 8pm. When the snow finally stopped falling at 8:43pm the temperature was down to 27-degrees, but cleanup continued to be hampered as the arctic front approached and clearing skies caused the temperature to plummet to 18-degrees by midnight and winds continued to remain strong remaining at around 25-35 mph gusting anywhere from 35-45 mph. Conspiracy theories began to arise about whether or not cloudseeding and chemtrails had an involvement in the blizzard.
Snowfall Tables

| City | Snowfall |
| --- | --- |
| Joliet | 40.5 |
| Bolingbrook | 38.5 |
| Napperville | 37.0 |
| Aurora | 35.2 |
| Midway Airport- Chicago | 32.8 |
| Kalamazoo | 31.2 |
| South Bend | 30.4 |
| O'Hare Airport- Chicago | 30.1 |
| Davenport | 27.7 |
| Fort Wayne | 25.3 |
| Waukegan | 23.7 |
| Grand Rapids | 19.2 |
| Toldeo | 18.8 |
| Detroit | 18.6 |
| Milwaukee | 17.2 |
| St. Louis, Missouri | 16.5 |
| Cleveland | 15.2 |
| Lansing | 13.3 |
| Indianapolis | 12.0 |
| Flint | 11.6 |
| Bloomington, Indiana | 6.7 |
| Evansville | 1.3 |
| Louisville | 0.5 |
Prelude to the First Blizzard
Remainder of December
Pre/Post Christmas Storm
Throughout the night and early morning hours of December 22nd, temperatures continued to plummet until they reached 3 degrees by 6am as the arctic front passed over the city after which the winds finally died down. At 4am that night the temperature was 4 degrees with winds of 25-mph gusting to 40-mph creating near ground blizzard conditions of the heavy, wet, fresh snow that was 27-inches deep at O'Hare and 29-inches deep at Midway. Cleanup became much more effective after the winds started dying down during the late morning and early afternoon hours but it would take weeks until minor and neighborhood streets were fully cleared. By December 23rd, a system of low pressure centered over Colorado traveling eastbound was about to collide with a cold air mass centered over Saskatchewan was about to deliver more snow to the region just starting to get out of the paralysis of the December 20-21 Supersnow. On December 24-25 the Chicagoland area was hit by a Colorado low that delivered 8.4-inches of snow to Chicago and 13.6-inches to Milwaukee as December 2033 officially became the snowiest December on record for the city of Chicago with a total of 39.2-inches. Before December 21st, the city only logged 3 subfreezing highs, the lowest since 2020, but nobody suspected at the time that December 20th would be the last above freezing temperature the region would see until a full week and a half into February and that many of the snowmen built from the December 20-21 storm would still be there by March.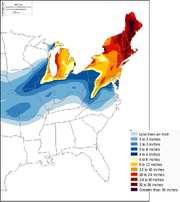 On Christmas Day the depth in Chicago reached an astonishing 31-inches beating the previous record set on January 15th, 1979 at 29-inches. Meanwhile, that storm combined with a coastal low that formed a nor'easter producing up to 3-5 inches from Richmond, Virginia to Baltimore then 5-12 inches from Baltimore to Trenton, New Jersey then 12-20 inches up to western Connecticut before going through a bombogenesis and delivering up to 36-inches in parts of New Hampshire, Massachusetts and Connecticut over the course of the 25th and 26th, from this system Washington DC. The storm hit Chicago at 7pm on Christmas Eve with light to moderate snowfall continuing throughout the night before ending around early morning. By Midnight, 3-inches had fallen in Chicago and the storm was heading in a slightly southeast direction where it would hook northeast once it passed the Appalachian Mountains. The snow stopped at 8am on Christmas morning after 8.4-inches had fallen in Chicago, but the snow started at 3am in Washington DC, then 4am in Baltimore as the storm started to move more slowly then 6am in Philadelphia then 9am in New York City as the low was centered around Ocean City, Maryland and it pulled lake effect snow in from the Great Lakes right as the Colorado Low that delivered the snow to Chicago fused with a weak coastal low. Many people in the New York City area thought it was a Christmas miracle that the seasons first snowfall occurred on Christmas Day given how warm air and the weakening and northern divergence of the system caused the December 20-21 system to deliver New York City just 0.39-inches of 50-degree rain. The snow started at 11am in Boston by which point the storm was starting to weaken in Washington DC after 5-inches had fallen on the city. The low pressure started to trek north off the coast slightly deepening from 996mb to 990mb causing the snowfall rates to increase and become more concentrated. By the end of Christmas Day roughly 10.5-inches had fallen on Baltimore with the snow ending a few minutes after midnight, 11.5-inches had fallen on Philadelphia, 15.2-inches on New York City and 16.4-inches in Boston. The snow ended at 2am in Philadelphia, 7am in New York City but lingered on until 3pm in Boston and wouldn't end in Maine until before Midnight.
Snowfall Totals from the December 24-26 System
Dover-Foxcroft, ME: 44.0-inches
Manchester, NH: 40.5-inches
Fitchburg, MA: 35.5-inches
Boston: 26.1-inches
Muskegon, MI: 20.3-inches
Providence, RI: 19.3-inches
Buffalo: 18.5-inches
New York City: 17.3-inches
Milwaukee: 13.6-inches
South Bend: 13.0-inches
Philadelphia: 12.3-inches
Waukegan, IL: 11.2-inches
Baltimore: 10.5-inches
Chicago: 8.4-inches
Washington D.C: 6.6-inches
Louisville: 1.6-inches
December 27-28 storm
Another system delivered 4-inches of snow to Chicago and 7-inches to Louisville followed by a brief cold spell. The storm came in as an Alberta Clipper traveling south before hooking east and hitting Kentucky, especially western Kentucky, an area just beginning to fully recover from the nearly 2 inches of frozen rain that fell on December 21 as it transitioned from rain to freezing rain before receiving a light wet snow and that still had an inch of snow on the ground from the Christmas snowfall.
Totals from the December 27-28 storm
Elizabethtown, KY: 10.5-inches
Louisville: 8.1-inches
Peoria, IL: 7.6-inches
Bowling Green, KY: 6.0-inches
Minneapolis: 5.8-inches
Springfield, IL: 5.4-inches
Chicago: 4.0-inches
Nashville: 3.7-inches
Cincinnati: 3.5-inches
Milwaukee: 3.2-inches
Before warming up again into the 20s as a pre-new years storm brought 11.6-inches to Chicago and 10.4-inches to Detroit before picking up moisture over Lake Erie before hitting Buffalo and dumping 20.5-inches on the city over the course of the 30th and 31st of December. December 2033 was the snowiest month the city of Chicago had ever seen at 54.8-inches shattering the previous record of 42.5-inches set in January 1918 and obliterating the snowiest December record of 33.3-inches set in 1951 and on level the snow was 36-inches deep. It was said that December 2033 "came in like a lamb and went out like a lion". In New York City the month brought the city 24.0-inches and the snow depth was 16 inches.
Early January and the First Blizzard of 2034
Two more systems delivered snow to the region of similar magnitude of snowfall, with 5.8-inches on the 2nd and 7.4-inches on the 5th as temperatures remained moderated by the heavy snowpack throughout the entire Midwest as it never went above 27-degrees as far south as Springfield and never went above 41-degrees as far south as Nashville, Tennessee. On January 5th after the snow stopped falling at 5pm the temperature plummeted from 13 degrees to 5 degrees by midnight to -6 degrees by midnight the next day. During the next several days with no foreseeable major snowfalls in the forecast and a windy cold pattern expected to hit on the 10th, the mayor and city government launched an all-out "Snow Blitz" to plow and tow as necessary in a concentrated effort to get the city back in full running order as soon as possible. The flat open topography of Illinois, Indiana and Iowa combined with the vast farmland and deep snow lacking forest cover meant that the perfect conditions in a perfect windstorm set up could cripple the area. Another system on January 5th-6th stalled and the center of low pressure centered around Erie, Pennsylvania deepened, snowfall rates along the Ohio Valley into the states of Ohio, Michigan and Kentucky began to pile up to rates of 1-2 inches an hour with the daily snowfall in Louisville reaching 10.8-inches and Cincinnati reaching 10.3-inches where it was reported with near blizzard conditions as far south as Kentucky.
Prelude to the Blizzard - January 4-7 snowstorm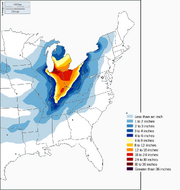 On Wednesday, January 4th surface maps revealed a moisture-laden Gulf Low developing over the state of Louisiana of about 1005mb while another unrelated low-pressure system was centered around western Missouri. In about 24-hours, the merger of the subtropical jet stream and the polar jet stream led the low-pressure system to undergo a process of deepening as it took a northward turn over central Mississippi over the night of January 4-5. At 10pm on January 4th the pressure was recorded at 1003mb located around Jackson, Mississippi but by 10am on January 5th the pressure had dropped to 996mb and the storm was located around Knoxville, Tennessee. In Chicago, the temperature peaked at 27 degrees on the 4th and the overnight low from the 4th to the 5th was 21-degrees, and the temperature that day at 25 degrees at 11am before it started to slowly drop to 5 degrees by midnight as winds increased to 30-mph. In Kentucky the storm began at around 3am heavy wet flurries and a wintry mix before completely switching to snow at around 8am. The snow began in Chicago at around 11am and only lasted for 12 hours during which time 7.4-inches fell but the snow was still falling throughout most of Indiana, Ohio and Northern Kentucky after that time.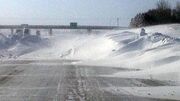 The storm system continued to strengthen dipping to 977mb around Huntington, West Virginia by 7pm as the storm was starting to slow in movement. Around this time, a well defined Line Echo Wave Pattern (LEWP) began developing and the storms turned into a serial derecho, referred to by the media as a "Snowrecho", bringing wind gusts of up to 90 miles per hour. During the day of the 5th about 7.4-inches of snow fell in Chicago, 12.4-inches in South Bend, 12.0-inches in Cincinnati and 13.9-inches in Louisville. On the 6th another 0.6-inches fell in Louisville 2.2-inches in Cincinnati, in South Bend another 20.9-inches. In South Bend in the 24-horus from 5pm on the 5th to 5pm on the 6th about 30.2-inches fell. In Sandusky, Ohio 36.3-inches fell whiles just 50 miles away in Toledo only 17.3-inches fell. Winds reached up to 70-mph in this storm creating drifts in Northern Indiana and Northwestern Ohio that almost berried houses. Many of the elderly compared it to the Blizzard of January, 1978 which struck the same areas in very similar ways. Winds gusting to as high as 50+ mph were reported stretching from as far west as the Chicago Metropolitan Area to as far south as Central Kentucky to as far east as Central Pennsylvania. Over 5,000 members of both the Indiana and Ohio National Guards were called in to make numerous rescues. Police asked citizens with snowmobiles to transport doctors and nurses to the hospitals. The difference between the snow from this storm compared to the December 20-21 storm was that the snow was lighter and fluffier making it somewhat easier to blow around in the wind. The difference between this storm and the 1978 storm was that while there was snow on the ground before the 1978 storm it was only several inches and somewhat hardened not one-to-three plus feet of unthawed snow. This combined with winds of up to 50-mph as far west as north-central Illinois led to massive drifting, zero visibility and blinding blowing snow creating drifts up to or over 25-feet high. There were reports of people being buried in their homes from how high the drifts were piled.
Temperatures remained moderated by the heavy snowpack throughout the entire Midwest as it never went above 28-degrees as far south as Springfield and never went above 41-degrees as far south as Nashville, Tennessee. On January 5th after the snow stopped falling at 5pm the temperature plummeted from 13 degrees to 5 degrees by midnight to -6 degrees by midnight the next day while snow was still falling all across most of Indiana, Ohio and Michigan. During the next several days with no foreseeable major snowfalls in the forecast and a windy cold pattern expected to hit on the 10th, the mayor and city government launched an all out "Snow Blitz" to plow and tow as necessary in a concentrated effort to get the city back in full running order as soon as possible. The flat open topography of Illinois, Indiana and Iowa combined with the vast farmland and deep snow lacking forest cover meant that the perfect conditions in a perfect windstorm set up could cripple the area. During the 17 days from December 20th, 2033 to January 5th, 2034 roughly 67.3 inches of snow would fall on Chicago and 63.6 would fall on Detroit already making it one of the snowiest winters on record with no thawing at all followed by a cold wave after the 5th that would last for several weeks. School was set to begin on January 9th, which turned out to be a sunny 18 degree day with a low of -2 that morning and with a calm sunny days on January 8th and 9th, many used it as an opportunity to clear the roads and dig out the region, as plows were finally starting to reach the side off roads and more minor neighborhoods in the Chicago area. Meanwhile, in South Bend, many of the main roads and freeways were still being dug out. Many meteorologists compared the period of December 20, 2033 to January 7, 2034 in the Great Lakes region to the period of February 5-10, 2010 in the Mid-Atlantic and January 24-February 15, 2015 in New England. In South Bend, Indiana, in just under 19 days from December 20th to about 11pm on January 6th about 102-inches of snow fell with 63.7-inches coming from just two systems with no thaws in-between creating a snow depth of 50-inches. During the course of the storm roughly 125,000 vehicles across the states of Illinois, Indiana, Kentucky, Michigan and Ohio were abandoned.
Snowfall Tables

| City | Amount |
| --- | --- |
| Benton Harbor | 48.0 |
| Michigan City | 40.3 |
| Sandusky | 36.3 |
| South Bend | 33.3 |
| Fort Wayne | 28.0 |
| Lima | 27.6 |
| Gary | 24.5 |
| Dayton | 18.3 |
| Toledo | 17.3 |
| Louisville | 14.5 |
| Cincinnati | 14.2 |
| Indianapolis | 12.0 |
| Cleveland | 11.2 |
| Detroit | 9.5 |
| Columbus | 8.3 |
| Chicago | 7.4 |
| Canton | 6.7 |
| Nashville | 4.8 |
Onset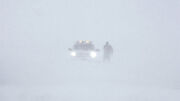 On Tuesday, January 10th an arctic front had swept eastward from the Great Plains to the Midwest. Between 6:00am and 8:00am a wall of snow accompanied by the cold front's passage through Des Moines, Iowa along with a temperature drop of almost 20 degrees. Between 8:00am and 10:00am Cedar Rapids reported similar conditions. Davenport, Peoria, Springfield and St. Louis were also hit strongly by the cold front. All schools and businesses that day were ordered to do their operations virtually given the weather reports but many had not heeded the advice.
From midnight to noon on that day the temperature at O'Hare Airport had risen from 2 degrees to 18 degrees as it looked like it might be the first day where the temperature failed to drop below zero since January 5th. Snow began falling around 10am that day with about half an inch of snow falling prior to the beginning of the blizzard. By 2pm the temperature was 18 degrees and 1.4 inches of new snow had already fallen on top of the already three feet of snow over the region as winds increased from 8-mph at noon to 30-mph by then decreasing visibility 3-miles to 0.50-miles. At 2:00pm the white wall of snow reached O'Hare Airport as visibility plummeted from 0.50-miles to 0.00-miles instantly where it would stay until 1:45am the next day. Many police vehicles out on patrol found themselves stranded on the streets and many mail trucks which were on the latter end of their routes that day soon found themselves stuck in place as snow blew onto the roads covering them instantly. The city's airports both O'Hare and Midway were shut down instantly when the wall of snow hit, just as the backlog of flights from being shutdown for 44 hours from 3pm on December 20th to noon on December 22nd, then again overnight on December 24-25 and during the pre-New Years storm along with the January 5th storm.
Tuesday Evening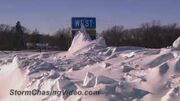 During the three hours after the cold front hit the temperature at Chicago plummeted from 18 degrees to 0 degrees, snow built up rapidly reaching bumper-high by 2:30pm, many vehicles out on the road when the blizzard hit had particles of snow blown into their batteries and radiators causing many vehicles mechanical and electrical issues. Many roads instantly became impassable within an hour after the blizzard hit, combined with vehicles facing mechanical issues from the conditions made people camp out at their schools and workplaces. For example an eighteen wheeler hybrid truck had snow blow into its radiator melt and saturate the battery and electrical wiring causing it to stall on the Dan Ryan Expressway virtually shutting down two lanes of northbound traffic.
Those attempting to travel by foot also found travel very difficult with the high winds, zero visibility, deep snow and very low temperatures made walking very dangerous. In some areas the advection and ground blizzard conditions were so severe that people reported trouble breathing by how choked with snow the air outside was. By 5pm there was no snow being reported by live satellite imagery, infrared data or live weather reports and it became clear that snow wasn't falling from the sky but blowing in form the countryside to the west of the region. The worst conditions continued to batter Chicago as between 3pm and 2am the next day winds never went below 38-mph and gusted as high as 69-mph (nice). Some snowplows where caught into buried vehicles or dense piled snowbanks soon found themselves stuck as well.
That night people stayed in whatever shelter they could find, local hotels, convention centers, grocery store workers slept overnight on top of conveyer belts and on whatever furniture they could scrounge up. An estimated 130,000 people from metropolitan areas stretching from Chicago down to Louisville and Cincinnati to Toledo were stranded Tuesday night.
Duration and Cleanup - January 11-14 Cold Wave
Wednesday, January 11th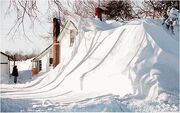 By midnight, an estimated 13,000 cars were estimated to be stranded on Chicagoland roads and over the course of the late-morning and early afternoon hours as the conditions started to improve as the front that stalled over Central Ontario started to slowly move eastward again created blizzard and whiteout conditions for Cleveland and Buffalo. The temperature plummeted down to -12 that morning with winds of 40mph creating wind chills of -48, it was reported that city snow cleaning staff were on the verge of mental and psychological breakdowns from constantly working up to 120-hours a week since the December 20-21 storm. Full automation of the CTA system in 2028 prevented the deadly accidents that occurred during the Blizzard of 1999 but a train on the redline got stuck into a 13-foot drift in Addison completely shutting down the CTAs busiest line in a metropolitan region with a transportation network already severely hampered by heavy snowfall.
In Buffalo that day, winds picked up from 8-mph at 10am to 29-mph gusting to 49-mph at 11am as the blizzard hit with visibility plummeting down from 0.75-miles to 0.00miles where it would stay until 2am the next day. Before the blizzard hit snow started falling around 4:30am and by 11am when the wall of snow hit, 3-inches of brand new snow had already fallen increasing the snow depth from 40-inches to 42-inches. After the blizzard hit temperatures plummeted from 12 degrees to 0 degrees in just under two hours
By noon that day temperatures were still below zero and the winds were still over 25-mph gusting to just over 40-mph. During the evening the Illinois Government and Governor Matthew Bogusz ordered the national guard to dig out the city of Chicago and declared all of Northern Illinois a Federal Disaster Area. During the day as the winds slowly calmed down as the high pressure system pushed the front further away it led to better conditions for cleaning the snow but winds still remained 15-mph leading to moderate drifting as temperatures remained below zero the entire day with a afternoon high of -3. In Detroit, the white out conditions raged on with winds of up to 30-mph as the arctic front continued to move south. During January 11th winds continued at 25mph to 30mph occasionally gusting to 40mph and this led to the drifts continuing to build up in some areas. Along the I-80 corridor in Illinois in Morris, Illinois one drift was reported to be as high as 43-feet, along the I-80 corridor in Illinois and where the December 20-21 storm hit the hardest got hit very hard by this ground blizzard, but northern Indiana and northern Ohio where the January 4-7 storm hit even harder got it the worst in Elkhart, Indiana a drift of 52-feet was reported.
Indiana Governor Chis Martin had to order send every member of the national guard to bring equipment to the cities of Fort Wayne, South Bend, Elkhart, Gary, Hammond and many other hard hit communities to get the communities moving again. For the first time since the 2020-22 Covid-19 Pandemic, the state legislatures of Illinois, Indiana, Ohio Michigan and New York issued travel bans, closures of non-essential businesses and a 24-hour complete ban on all non-essential car travel and all non-essential jobs were to be done virtually online along with all school activity. Also, in the city of Fort Wayne, all roads were narrowed down to two lanes and any cars with less than three people in them were fined for non-essential travel. Wind gusts of up to 56-mph were recorded across northern Illinois, Indiana and Ohio during the 11th a record for the date. Meanwhile in Buffalo and across Western New York, snowdrifts were beginning to reach the tops of houses and the slow moving arctic front was making its way down into Tennessee and into Central Virginia.
By Wednesday afternoon visibility improved and the cities began to send out their plows. Chicago's commissioner of snow removal had every plow sent out to clean the snow and even hired 100 private tow trucks to help remove vehicles along with hiring many private construction companies for use of their bulldozers. All business was ordered to remain either virtual, indoors or closed until streets were adequately plowed and all stranded vehicles were removed. Trains sent snow down to the Deep South and Southern Florida so children could experience snow for the first time. However, as the front stalled over Ontario, winds began to increase again at around 3pm and blowing and drifting snow once again decreased visibility that driving and walking became treacherous. Across Illinois, Indiana, Ohio and Western New York and Pennsylvania thousands were stranded anew. That day saw temperatures in Chicago drop as low as -12 by midnight after a high of minus one 24-hours earlier and a afternoon high of -5. By nightfall, drifts outside of Buffalo were reported as high as 20-feet and the blinding snow was making travel across Buffalo impossible. That morning Park Falls, Wisconsin set an all-time Wisconsin state temperature record of -56 degrees.
That day also saw a massive temperature drop across the Ohio and Tennessee River valleys as the day began with a morning low of 20 degrees before rising up to 33 at 10am before dropping to 27 by noon as snow would start to fall rapidly with 6.2-inches falling in just 6 hours between 1pm and 7pm that day with 12-inches of snow still on the ground causing the snow depth to swell up from 13-inches to 19-inches making setting a new record, combined with wind gusts of up to 40-mph this evening commute a nightmare. During the snowfall the temperature dropped from 24-degrees down to 10-degrees and by midnight the temperature dropped to -5 degrees.
Thursday, January 12th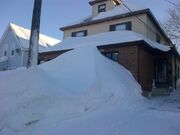 The arctic front with a central high pressure of up to 1046mb led to many cold records being broken during the week with temperatures of 0 being recorded as far south as Montgomery, Alabama on January 14th and 32-degree temperatures being reported as far south as Homestead, Florida. On January 13th, Cleveland recorded a temperature of -18, Buffalo recorded a temperature of -10, New York's Central Park recorded a low of -3, Washington National Airport recorded a low of -4, Nashville, Tennessee recorded a low of -16 and Chicago recorded a low of -18. During the four day period not once did the temperature in Minneapolis ever go above -12 reaching a low of -28 on January 11th. On January 12th temperatures dropped to -23 in Chicago, -22 in Indianapolis, -21 in Louisville, -18 in Bowling Green. The cold made cleanup even more strenuous as remote controlled equipment had to be used for fear of hypothermia or injury to rescue workers. This resulted in the percentage of the Great Lakes covered in ice increasing from 6.7% on January 5th to 25.6% on January 15th.
January 2034 was the coldest month on record for the states of Wisconsin, Michigan, Illinois, Indiana, Kentucky, Tennessee, Ohio, Arkansas, Missouri and Iowa. Snowfall was well above average all throughout the region and temperatures did not rise above freezing throughout the entire month in a massive swath of land from Northeastern Missouri to central Pennsylvania northward. Florida's citrus industry took a massive hit from the cold wave causing $10-billion in damages leading to a shortage of orange juice the following spring. There were reports of ice gorges as far south as Memphis with blocks of ice flowing down as far south as Baton Rouge. While medical supplies had to be sent in by drones into cities hit by the ground blizzard and snow removal equipment had to be flown in because of the ice buildup along the Great Lakes and the snow-cover over the train tracks. O'Hare Airport became operational at 10pm that day but it was used mainly to fly snow removal equipment and emergency supplies into the metropolitan area as many runways and the tarmac had yet to still be completely cleared of snow.
Records for this date
Madison, Wisconsin: -30 degrees
Rockford, Illinois: -29 degrees
Milwaukee, Wisconsin: -26 degrees
Chicago, Illinois: -23 degrees
Detroit, Michigan: -22 degrees (all-time low)
Indianapolis, Indiana: -22 degrees
Louisville, Kentucky: -21 degrees
Bowling Green, Kentucky: -18 degrees
Cleveland, Ohio: -16 degrees
Nashville, Tennessee: -16 degrees
Chattanooga, Tennessee: -7 degrees
Atlanta, Georgia: -1 degree
Birmingham, Alabama: 0 degrees
Friday, January 13th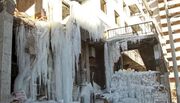 The arctic cold wave spread into the deep south where temperatures fell to as low as -7 in Birmingham, Alabama (an all time record for the city) and Atlanta, Georgia, it also spread a little further east and the subzero temperatures made it all the way down to Montgomery, Alabama where the temperature fell to -2 for only the third time in 50 years 1985 and 2027. Temperatures in Miami that morning were at 33 degrees which led to massive orange crop damage across the entire state. This caused massive issues such as pipes bursting, windows blowing out in many buildings across the southeast that were not built for such cold temperatures creating a situation almost on par with the Texas cold wave of 2021 leading to roughly $100-billion in damages. The citrus industry took a heavy blow from this cold wave with up to 80% of the citrus crops failing from the sudden hard freeze. This came in the form of power outages all across the southeast south central United States combined with freezing pipes leading to bursting pipes causing widespread water and power failures, windows being blown out especially in older buildings as they were never built to withstand such temperatures, or they were aged. On this day for the first time in roughly four days across Illinois and Indiana mail service and delivery services finally began again for the first time in over three days and that afternoon at 2pm O'Hare Airport opened for the first time since the wall of snow hit at noon over three days earlier. The Chicago Distribution Center was facing an unprecedented crisis of a massive backlog of packages and letters stretching from December 20th before the storm hit and being forced to shut down for four days only led to a nationwide delivery shortage causing major logistics issues across the country.
Records for this date
New Castle, Indiana: -37 degrees (new all-time Indiana state low)
Indianapolis, Indiana: -21 degrees
Louisville, Kentucky: -19 degrees
Chicago, Illinois: -18 degrees
Cleveland, Ohio: -18 degrees
Bowling Green, Kentucky: -17 degrees
Nashville, Tennessee: -16 degrees
Memphis, Tennessee: -14 degrees (all-time low)
Birmingham, Alabama: -7 degrees (all-time low)
Chattanooga, Tennessee: -9 degrees
Atlanta, Georgia: -7 degrees
Philadelphia, PA: -5 degrees
Washington DC: -4 degrees
Charlotte, North Carolina: -3 degrees
Montgomery, Alabama: -2 degrees
Valdosta, Georgia: -1 degree
DeFuniak Springs, Florida: -1 degree
Tallahassee, Florida: 0 degrees
Miami, Florida: 33 degrees
Saturday, January 14th
Relief began on Saturday with temperatures rising above zero in Chicago for the first time since January 10th on this day and temperatures rising above freezing across all of Florida, Southern Georgia, Southern Alabama and Louisiana for the first time since January 11th. But the cold although not as brutal continued all across the eastern United States causing massive home damage across the region as pipe bursts lead to broken walls and the power outages with no heat led to frozen pipes across many homes in the region. Highs in the region rose in Louisville from 2 on the 13th to 16 on the 14th. Fires broke out in some areas where people attempted to warm their houses, but fire engines had trouble as the arctic air froze the water being used to fight the fires leading to damage to major pieces of firefighting equipment. That day at 4pm temperatures finally rose above zero after 96 hours just 4 hours short of the all-time record set in December, 1983. The low that day in Miami reached 31 degrees, the city's first sub-freezing reading since 29 degrees on January 25th, 2025 which was the first since 1989. That day also saw Florida set its all-time record low temperature of -3 degrees at DeFuniak Springs beating the record of -2 set in Tallahassee on February 14, 1899. By the time the cold snap was finished roughly 10,000,000 of the 51,000,000 people across the states of Alabama, Florida, Georgia, Mississippi and South Carolina were without power or running water from infrastructure not being winterized.
January 15-17 Little Relief is Better than None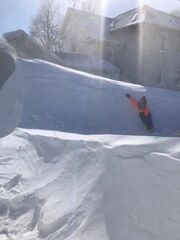 The polar air did recede a little bit with highs going up to 30 degrees in Louisville, 35 in Nashville on the 16th but remaining at 17 and 18 degrees in Chicago on the 15th and 16th as deep snow cover did little to allow warmer air up into the region. Then, just as the cleanup was finally starting to make real progress and life was starting to get slowly back to normal another polar vortex made its way south though not as severe as the previous one. On Sunday, January 15th, the Chicago city government instituted a $3,000 fine and 30 days in jail for anybody doing nonessential travel this helped prevent looting within the city for snow removal equipment which occurred in a South Chicago neighborhood two days earlier. This helped keep individual car travel down to a minimum and greatly aided in improving the speed of the clean up but some felt that these measures were a little strict and reminiscent of the quarantine measures of 2020. The problem was that the snowpack was diminishing very slowly as the temperatures remained well below freezing and any wind would blow around three feet of un-melted snow.
January 16-18 Nor'easter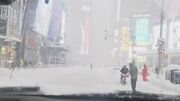 On Monday, January 16th an additional 1.4-inches of snow fell in Chicago with up to 4-inches in South Bend and winds gusted up to 44-mph resulting in near-zero visibility and conditions almost as bad as the previous Wednesday as an Alberta Clipper made its way through the area. To make matters worse a snow system with a Texas Panhandle Gulf Low began traveling along the deep south dropping up to 4-inches of snow in Alabama and Georgia before hooking northward and merging with a dipping arctic jet stream. The arctic air mass then merged with the storm, and it began to rapidly intensify as it made its way up the coast. The storm system made its way up the coast creating another perfect system that dropped up to 18.4-inches on Philadelphia, 21.3-inches on New York City and Boston receiving up to 30.8-inches breaking its all-time record over the course of January 17-18, with the snowpack in New York City shrinking to 9-inches on January 16th only to swell back up to 28-inches on the 18th. This combined with winds of 40-70 mph in the southern New England region with gusts of 75-105 mph led to widespread drifting. Mail and package deliveries already facing a backlog from the Christmas shopping season were starting to reach its peak when the December 20-21 storm started led to flooding of packages in many warehouses and the subsequent weather led to delivery and logistics issues as people were still receiving their Christmas presents well into January.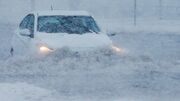 The storm was formed as an extratropical low-pressure system off the coast of Louisiana on January 14th as it rode a dip in the jet stream but as the arctic air retreated north over the next two days it rode the coast becoming an extra tropical cyclone on January 16th off the coast of Georgia. Another system of snow travelling across the Ohio Valley powered by a cold air mass then merged with the storm as it travelled up the coast creating the perfect ingredients for a large-scale nor'easter. The storm made its way up the coast approached the mid-Atlantic and Southern New England late January 16th and early January 17th before getting stuck between an arctic air mass and Bermuda high. The snowfall first reached Birmingham, Alabama at 10am on January 16th as the storm grew in size and intensity reaching Atlanta at noon, then Charlotte, North Carolina at 3pm. The snowfall gradually moved north-by-northeast reaching Washington DC by 8pm making its way to Philadelphia by 11pm then New York City by 2am before reaching Providence at 8am then Boston at 8:30am as the storm began to slowdown in speed and intensify and by 11am in Boston it was snowing at a rate of an inch an hour eventually going to as high as four inches an hour in some parts of Eastern New England by 4pm.
When the snow began at 8:30am it initially fell at a fairly light pace and visibility was still at 1.5-miles despite 20-mph winds gusting to 35-mph and a depth of 15-inches before the storm hit, but by 11am winds were up to 35-mph gusting to 55-mph with visibility down to just under 0.50-miles as 1.6" had fallen on the city by that point. The storm continued to intensify and by 2pm when 5.3-inches had fallen in Boston visibility had dropped to 0.00-miles where it would stay until 1pm the next day. The winds would have two different peaks along the Boston area with one reaching around 11pm on the 17th to 2am on the 18th then again from 9am to 11am where winds did not drop below 60-mph causing major power outages and coastal flooding in the area. The winds started to die down after 10am on the 18th dropping below 50-mph after 12pm and below 40-mph after 2pm with the snowfall rate dropping to under 0.5-inches an hour causing visibility to increase from 0.00-miles to 0.25-miles for the first time in 25-hours. The snow depth at Logan International Airport increased from 15-inches before the storm at 8am to 16-inches by 11am to 30-inches at 10pm reaching 41-inches when the snowfall ended. The city of Boston officially broke its 24-hour snowfall record with 26.9-inches falling between 10am on January 17th to 10am on January 18th breaking the old record of 23.6-inches set during February 18, 2003, and January 29, 2022.
Snowfall from the January 16-18 Snowstorm
Snowfall Totals

| Location | Amount |
| --- | --- |
| Marlborough, MA | 45.3 |
| Worcester | 40.8 |
| Lowell | 38.0 |
| Bridgeport | 34.0 |
| Hartford | 33.3 |
| Boston | 30.8 |
| Providence | 28.4 |
| Atlantic City | 21.5 |
| New York City | 21.3 |
| Philadelphia | 18.4 |
| Baltimore | 17.0 |
| Washington DC | 16.5 |
| Richmond, VA | 12.2 |
| Pittsburgh | 10.5 |
| Greensboro, NC | 9.4 |
| Charlotte, NC | 6.3 |
| Chattanooga, TN | 6.1 |
| South Bend | 4.0 |
| Birmingham, AL | 2.8 |
| Atlanta | 2.4 |
| Chicago | 1.4 |
January 18-23 Polar Outbreak II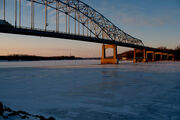 The temperatures did start to drop again, although this cold wave travelled somewhat further east than the previous one with temperatures in Chicago dropping to -13 on the 18th, reaching -11 in Indianapolis and -6 in Louisville reaching sub-zero lows as far south as Ashville, North Carolina, Huntsville, Alabama and Jackson, Mississippi with freezing temperatures reaching as far south as Fort Myers and West Palm Beach, Florida causing another round of damage to the nation's citrus industry. The temperature dropped to -3 in Bowling Green and -2 in Nashville, in Birmingham, Alabama the temperature dropped to 6 degrees and in Miami the temperature dropped to 35 degrees on the 19th. By the end of this arctic outbreak, Great Lakes ice coverage had increased from 28% to 61% and the Ohio River froze to the point where people could walk across the river in both Louisville and Cincinnati for the first time since 1977. This was despite the fact that there was The Mississippi River also froze to almost near the same point as well. Ice gorges were being reported as far south as the mouth of the Mississippi before going out into the Gulf to rapidly melt. Meanwhile, the Hudson River in New York City was beginning to have their shipping industry hampered by ice gorges. On January 19th, Buffalo set it's official 30-day snowfall record of 100.5" from December 20th to January 19th as a snow depth of 50" was recorded with 39.6-inches of snow recorded from December 20-31 followed by another 61-inches from January 1st to January 19th.
On Friday, January 20th, the city of Chicago lifted the travel ban and began to slowly reopen nonessential businesses as roads were being mostly cleared, but cars were required to have at least three people in them, parents who drove their kids to school were fined and a citywide speed limit of 30-mph was enacted. Many colleges and schools began to return students from virtual environments for the first time since January 10th. The next day on the 21st, the rule requiring at least three people per car was lifted for the hours of 7pm to 6am. Schools also remained in virtual environments as roads were being cleared during this time however.
January 23-31 The First Arctic Relief
This was the first time in almost three weeks where temperatures rose above freezing as far north as Louisville and Cincinnati and where temperatures reached into the 20s as far north as Madison, Wisconsin. On January 24th, in Chicago, for the first time since January 5th the city went an entire day without the temperature dropping below 0 and the afternoon high rising above 20 degrees with a high of 21, after an overnight storm from an Alberta Clipper dropped 2.1 inches on the city the previous day. While another outbreak of sub-zero lows occurred from the 27th to the 29th, they weren't as far reaching nor as severe as the two previous outbreaks, with temperatures only dropping to -5 on the 28th and sub-zero temperatures only making it down to Indianapolis and Dayton, Ohio. Tuesday, January 24th, the Chicago city government lifted the driving ban at noon and raised the speed limit from 30-mph to 40-mph. On Wednesday, January 25th, Chicago area schools finally fully reopened and children were sent to school for the first time in ten consecutive school days. Afternoon highs in Chicago reached 27 degrees on the 25th and 26th, and in Louisville they reached 32 and 34 degrees, while in Bowling Green they reached 35 and 39. Temperatures as high as 50 degrees were reached as far north as Memphis and Richmond, Virginia.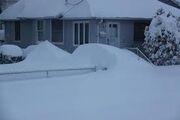 Meanwhile, on January 30-31 another storm brought 4-inches of snow to Chicago and 10-inches to Cleveland before merging into a system that brought 11-inches to New York City and 17-inches to Boston. The snow depth in Boston was at 44-inches the deepest since the 46-inch reading on February 15-16, 2015. That January averaged 22.0-degrees at New York City, tied with 1977, however, it also produced 38.2-inches of snow in New York City after receiving 24.0-inches in December with 17.7-inches on December 24-26, in Boston it was the snowiest month since February, 2015 with 57.3-inches following 34.5-inches in December with 26.1-inches on December 24-26 followed by another 30.3-inches on January 17-18. Despite another 3.4-inches falling on the city of Chicago on January 26th, it wasn't very wind driven and it didn't fall that heavily so it just delayed the full clearing of the metropolitan area.
February Cold, But Not As Brutally Cold
February 1-9 More of the Same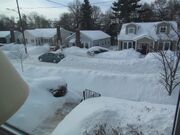 February 1st was a normal day where temperatures rose to 25 degrees in Chicago and 35 in Louisville and the following day saw temperatures rise to 28 in Chicago and 39 in Louisville and in Bowling Green, temperatures rose to 40 degrees with a high of 43, for the first time since December 29th temperatures rose above 40 degrees. However, this was not to last as a Colorado Low brought 6.5-inches of snow onto the city of Chicago and 5.8-inches onto New York City from February 2nd to February 3rd. This was followed by another arctic outbreak which saw subzero temperatures travel as far down south as Lexington, Kentucky on February 5th and 6th with a snowstorm centered in Tennessee that day that brought 6.3-inches to Knoxville and 11.0-inches on Nashville over the course of February 5-6 as the storm continued to be a southern slider bringing 5.8-inches to Chattanooga. On February 7th, temperatures in most of Tennessee and North Carolina never rose above freezing.
Thankfully, a warmup was in the forecast however, it would be followed by a clipper that would deliver 3.7-inches to the city of Chicago, this helped push the snowfall total in Chicago to its snowiest winter of all time. Many cities at this were seeing patience run out with cold and snow, snow plows were in constant need of maintenance, many public transit systems were never restored back to 100% capacity and shipping had been severely hampered by snow drifts blocking train tracks and highways and ice blocking rivers. The snow depth in Chicago which had slowly declined from 40-inches on January 5th to 27 inches on January 29th grew back to 38 inches on February 8th as 17.6-inches fell from January 26th to February 8th with no thaws in-between. By this point about 86.4% of the Great Lakes had been frozen over (the most since 2026-27). During this time many reports of structural roof failures from the weight of the snow were being reported including an already financially suffering Woodfield Mall in Schaumburg, Illinois on February 6th and a collapse of the glass roof on the International Terminal at Chicago O'Hare International Airport on February 9th.
February 10-13 Real Relief Finally Comes
On February 10th, the temperature in Chicago rose to a high of 31 degrees with the high rising to 34 in Indianapolis, the first above freezing reading since December 30th and the next day the high in Chicago rose to 34 degrees(the city's first reading above freezing since December 20th) with the temperature reaching 42 in Louisville with sun and increasing clouds, however melting was slow as the temperature would drop below freezing overnight hardening the snow making it harder to melt. The next day February 12th, temperatures rose to 44 degrees in Louisville, 40 degrees in Indianapolis, 37 degrees in Chicago, 35 in Buffalo and 26 in Minneapolis. However, the temperatures were not that warm and melting was slow from the snow being hardened and increasing cloud cover on the 13th as the snow depth from February 9th to February 13th would decrease from 38-inches to 31-inches and in Indianapolis it would decrease from 27-inches to 19-inches, in Louisville, the snow depth decreased from 15-inches to 6-inches in Cincinnati the depth decreased from 17-inches to 7-inches and in Bowling Green the snowpack completely melted. But as temperatures would drop below freezing overnight this caused the snow to harden making it harder to melt but also thankfully, harder to blow around in the wind. This led to more problems as snow that melted hardened and refroze into ice on some structures leading to icicles forming and even leading to blocks of ice falling off of high rise buildings.
February 14-19 Back to Cold
Another outbreak centered around Ontario with a high pressure system came back down south and traveled over a mostly frozen Great Lakes and deep snow cover with little Gulf activity caused it to not lose much momentum. On February 14th the high temperature in Chicago dropped from 33 to 21 in Indianapolis it dropped from 38 to 26 and in Nashville it dropped from 50 to 33. During the next several days, temperatures would never rise above 15 degrees in Chicago and 20 degrees in Columbus, Ohio. During the next four days from February 16th to February 19th Chicago had four consecutive sub-zero lows. On February 18th, the low temperature dropped to -10 in Chicago, -12 in Detroit, -9 in Buffalo, -5 in Cincinnati and -2 in Knoxville, Tennessee. This outbreak led to 94.9% of the Great Lakes being frozen with Superior, Huron and Erie being frozen over completely setting an all time record for most ice cover over the Great Lakes. On February 14th, an ice storm brought up to 2" of ice rain to portions of Southern Kentucky, Tennessee and Northern Alabama in an area that was starting to fully recover from the two successive arctic outbreaks less than a month earlier leading to massive power outages for people who weren't using solar panels.
February 20-23 More Relief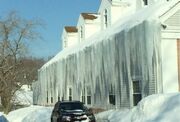 While February 20th began as another cold morning a warm front from the continental south led to temperatures rising rapidly to 36 degrees in Chicago, 40 degrees in St. Louis and 52 degrees in Memphis. During the next three days the high temperatures in Chicago reached 43, 46 and 42 degrees which led to the snowpack decreasing from 31-inches on the 17th to 29-inches on the 19th to 17-inches on the 23rd. However, low humidity and partial cloud cover led to a slow melt and after this point the snow was almost strong enough for a adult man to walk on top of. The snow melted as far north as Louisville and Cincinnati but five inches still remained on the ground at Indianapolis after the mild spell. Also, the amount of ice on the Great Lakes decreased from 94.9% to 93.7% which was not sufficient enough to allow for warmer temperatures along with the deep snow cover. The period of snow cover in Louisville lasted from December 24th to February 23rd a record 60 days, shattering the previous record of 49 days set in 1978. In Cincinnati, the month of January produced 33.4-inches after 12.6-inches in December which was followed by another 10.3-inches in February.
February 24-28 More Temperature Swings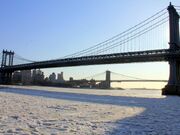 Temperatures in the region began to dive again as another minor arctic outbreak occurred with temperatures reaching -5 in Chicago on February 25th and 2 degrees in Indianapolis. This was following another 4.4-inch storm in Chicago that pushed the seasonal snowfall total up to 104.1-inches making it the city's first ever 100-inch season a record that many thought was impossible this pushed the snowpack back up from 17-inches on February 23rd to 21-inches on February 25th and 26th February finished averaging 15.6-degrees in Chicago with the winter averaging 17.8-degrees tying 2026-27 as the coldest winter on record and if you took December out of there January and February averaged 11.6-degrees shattering the record of 14.4-degrees set in 1979. Not only was the winter abnormally cold it was also very wet as well 11.47-inches of precipitation falling during the months of December, January and February with 9.18-inches falling in the form of snow after December 19th. In Indianapolis the winter snowfall total was 68.4-inches shattering the previous record of 51.0-inches set in 1981-82 and there was still 4-inches left on the ground as temperatures were a low of 23 and 24 on the 27th and 28th with highs of 39 and 41. New York City averaged 26.0-degrees during February, the coldest since 2015 and added an additional 15.3-inches of snow making it the snowiest winter in New York City's history beating 1995-96s record of 75.5-inches. The gradual melting prevented flooding during the following spring.
March - The Winter Slowly Fades
March 1-9 Still Cold
During the next several days temperatures in all of Illinois, Indiana and Ohio remained below freezing with temperatures reaching -9 in Chicago, -6 in Indianapolis and -4 in Cleveland on March 6th, and on March 10th temperatures finally began to rise again. Although 2 inches of snow fell on March 3rd it would be the final snowfall for another ten days in the region which helped relieve snow fatigue in the region. On March 10th the Great Lakes reached their greatest ice cover ever at 96.9% of the lakes covered in ice.
March 10-13 Glimmer of Hope
Temperatures in Chicago rose above freezing again on March 10th to 33 degrees then 45 degrees on March 11th and 42 on March 12th, in Indianapolis the temperatures rose to 37, 52 and 48 where the snow finally melted completely on March 11th after 81 consecutive days of snow cover. In Chicago, the snow depth melted from 19 inches on March 9th to 10 inches on March 13th. Temperatures as high as 60 degrees reached as far north as Southern Kentucky and temperatures as high as 70-degrees reached as far north as Memphis.

March 14-16 One Last Cold
On March 13th beginning at 8am the snow started falling on and off and by the time it finally stopped by 2am the next day another 4.2-inches of snow had fallen increasing the city's seasonal snowfall up to 112.4-inches typical for Syracuse, New York pushing the snow depth up to 13 inches. The next three days from March 14th to March 16th the temperature never rose above 24 degrees making the Great Lakes go from 95.0% frozen to 96.5% frozen as on that day temperatures in Chicago reached as low as -1 degrees the 38th and final sub-zero low of the winter.

March 17-31 Snow Finally Melts, Spring Officially Arrives
On March 16th to March 18th another 2 inches of snow fell, however with the high temperatures reaching 37 on the 18th and 45 on the 19th the snow depth shrunk from 12 inches on the 17th to 7 inches on the 19th. On March 20th the high temperature in Chicago reached 52 degrees with the snow depth shrinking to 3-inches and by midnight that day the snow cover would be mostly gone disappearing completely the next day which saw the temperature rise to 61. For the first time in 89 days, residents of the Chicagoland area woke up to see grass in their yards. The rest of the month varied widely with a cool period in the first week of April with a low of 12 on the 4th and a high of 30 on the 6th despite having a high of 74 on the 31st of March.
Aftermath of the Winter
No new snow fell and the second week of April was rather warm with temperatures reaching 87 on the 14th. During this period the ice cover over the Great Lakes finally began to decrease dropping below 95% on March 19th and 90% on March 23rd dropping below 80% on March 31st then below 70% on April 13th. The ice cover caused massive shipping issues across the Great Lakes and many of the rivers across the Eastern United States, it even caused shipping issues along the East Coast as well. May was a normal month and the following summer was about a degree below normal and many major snowfarms wouldn't completely melt until June with the biggest one in Chicago not melting until July. This winter set a massive benchmark in the record books and the oldest residents of the region said it was like "the winters of 1976-79 on steroids". The water along the Great Lakes was frozen rather severely that it took until May 12th for the water at Buffalo to completely thaw. The United States GDP growth rate which had an annual rate of 2.7% in 2033 saw its quarterly growth rate plummet from 2.5% to -1.2% then soar back to 4.3%.
Records
January for the Record Books
Most Days in Birmingham, Alabama with a minimum temperature of 32 degrees or lower: 29 (previous record 27 in January, 2014)
Most days in Montgomery, Alabama with a minimum temperature of 32 degrees or lower: 27 (previous record 26 in January, 1940)

Most consecutive days with a low of 32 degrees or lower: 20 (January 7th to January 26th), previous record 18 in Jan 15th-Feb 1st, 1940

Everyday that month had a sub-zero low in Minneapolis, Minnesota, the highest morning low was -2 on January 3rd, 4th and 29th

Every day from December 28th to February 3rd had a sub-zero low a record 38 consecutive days
January Temperature Records

| City | Average Temp | Previous Rec | Year |
| --- | --- | --- | --- |
| Minneapolis, Minnesota | -4.0 degrees | -3.6 degrees | 1875 |
| Rockford, Illinois | 4.0-degrees | 4.7-degrees | 1912 |
| Chicago, Illinois | 8.0-degrees | 10.1-degrees | 1977 |
| Detroit, Michigan | 11.3-degrees | 12.7-degrees | 1977 |
| St. Louis, Missouri | 12.8-degrees | 14.0-degrees | 1940 |
| Buffalo, New York | 13.5-degrees | 13.8-degrees | 1977 |
| Cincinnati, Ohio | 13.9-degrees | 15.0-degrees | 1977 |
| Louisville, Kentucky | 15.6-degrees | 18.6-degrees | 1977 |
| Bowling Green, Kentucky | 17.2-degrees | 19.9-degrees | 1977 |
| Memphis, Tennessee | 25.6-degrees | 26.7-degrees | 1940 |
| Jackson, Mississippi | 31.0-degrees | 31.9-degrees | 1940 |
Snowfall Records
30-Day Snowfall Records - a tale of two extremes

| City | Pre-Dec 20th | % Normal | Dec 20 - Jan 19 | % Normal |
| --- | --- | --- | --- | --- |
| Nashville, TN | 0.0-inches | 0% | 18.8-inches | 1,175% |
| Louisville, KY | 0.0-inches | 0% | 34.7-inches | 938% |
| Bowling Green, KY | 0.0-inches | 0% | 23.6-inches | 904% |
| Baltimore, MD | 0.0-inches | 0% | 36.0-inches | 837% |
| St. Louis, MO | 0.2-inches | 3.44% | 38.8-inches | 825% |
| Washington DC | 0.0-inches | 0% | 28.0-inches | 718% |
| Philadelphia, PA | 0.0-inches | 0% | 40.2-inches | 705% |
| Chicago, IL | 0.7-inches | 10.3% | 72.6-inches | 691% |
| Cincinnati, OH | Trace | 0% | 38.0-inches | 667% |
| New York City | Trace | 0% | 49.0-inches | 662% |
| South Bend, IN | 1.5-inches | 10.6% | 104.2-inches | 543% |
| Indianapolis, IN | 0.1-inches | 2.04% | 42.1-inches | 484% |
Snowfall Records (Jul-Jun)

| City | 2033-2034 | Old Record | Season |
| --- | --- | --- | --- |
| South Bend, IN | 190.3-inches | 172.0-inches | 1977-78 |
| Chicago, IL | 112.4-inches | 92.3-inches | 2026-27 |
| New York City, NY | 82.5-inches | 75.5-inches | 1995-96 |
| Indianapolis, IN | 70.3-inches | 58.2-inches | 1981-82 |
| St. Louis, MO | 69.0-inches | 67.2-inches | 1911-12 |
| Cincinnati, OH | 60.1-inches | 55.0-inches | 2025-26 |
| Louisville, KY | 54.0-inches | 50.5-inches | 2025-26 |
Overall
Records
Record
Amount
Date
Old Record
Date
Coldest January
20.9-Degrees
2034
21.5-Degrees
1979
Most Great Lakes Ice Coverage
96.9%
March 9th, 2034
94.7%

94.2%

February 23rd, 1979

February 20th, 2027
Chicago, Illinois
Records
Record
Amount
Date
Old Record
Date
Most Snowfall in a Season
112.4-inches
2033-2034
93.2-inches
2026-2027
Largest Single Snowfall
30.1-inches
December 20-21, 2034
23.0-inches
January 26-27, 1967
Coldest Month
8.0 Degrees
January, 2034
10.1 Degrees
January, 1977
Snowiest Month
54.8-inches
December, 2033
42.5-inches
January, 1918
Month with the most sub-zero days
21 Days
January, 2034
17 Days
January, 1977
Greatest Consecutive Days With

Sub-Zero Lows

18 Days
January 6th -

January 23rd

10 Days
January 4th -

January 13th, 1912

Most Sub-Zero Lows
38 Days
2033-34
30 Days

25 Days

2026-2027

1884-1885

Consecutive Days Below 32-Degrees
53 Days
December 20th, 2033

February 11th, 2034

43 Days
December 27th, 1976

February 9th, 1977

Most Snowfall in 30 Days
72.6-inches
December 20th, 2033

January 19th, 2034

53.7-inches
December 27th, 1978

January 26th, 1979

Most Days with 12" or More Snow Depth
82 Days
December 20th, 2033

March 12th, 2034

62 Days
December 19th, 2026

February 19th, 2027

Most Days with 16" or More Snow Depth
79 Days
December 21st, 2033

March 10th, 2034

42 Days
January 13th, 1979

February 24th, 1979

Most Days with 20" or More Snow Depth
62 Days
December 21st, 2033

February 21st, 2034

29 Days
January 13th, 1979

February 11th, 1979

Most Days with 24" or More Snow Depth
61 Days
December 21st, 2033

February 20th, 2033

14 Days
January 25th -

February 7th, 1979
Buffalo, New York
Records

| Record | Amount | Date | Old Record | Date |
| --- | --- | --- | --- | --- |
| Coldest January | 13.5-degrees | 2034 | 13.8-degrees | 1977 |
| Snowiest January | 74.8-inches | 2034 | 68.3-inches | 1977 |
| Deepest Snowdepth | 50-inches | January 19th, 2034 | 45-inches | December 29th, 2001 |
Cleveland, Ohio
Records

| Record | Amount | Date | Old Record | Date |
| --- | --- | --- | --- | --- |
| Coldest January | 9.4 Degrees | 2034 | 11.0 Degrees | 1977 |
| Most Sub-Zeros in a Single Winter | 26 | 2033-2034 | 20 | 1976-1977 |
| Snowiest January | 45.2-inches | 2034 | 42.8-inches | 1978 |
What Made It So Cold
Shifting Current Patterns
During the period from mid-November to mid-December there was a shift in the high-amplitude planetary wave which became very persistent from December, 2033 to March, 2034 and involved a ride over northwestern North America and a through over the central-eastern portions of North America. In January and February, 2034, this pattern persisted, with the pressure of a strong ridge over the eastern part of North America being almost four standard deviations below the mean.
There was also a strong blocking high that developed over the Arctic Ocean that locked the cold arctic air into place over the Eastern United States throughout January which moved the Polar Vortex almost the US Canada border, much further south than its normal location.

Record Mild Temperatures Elsewhere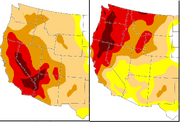 While the period of January-March, 2034 was the coldest on record for every state east of Texas and the Central Great Plains with the exception of Florida, Maine, New Hampshire, Rhode Island and South Carolina it was also the sixth warmest on record for the state of Washington and the fifteenth warmest for Oregon. It was also the warmest January-March period on record for the Canadian provinces of British Columbia, Northern and Central Alberta, Yukon, Northwest Territories and northern Nunavut as well as the mildest winter in the Arctic Ocean.
There was also a stubborn ridge of high pressure around the northern part the west coast of the United States that shifted the warm air northward, locking the cold air into place over the Eastern US and diverting the precipitation south into Southern California where it was more likely to get caught in the jet stream and become a winter storm, for example, Los Angeles recorded 21.33-inches of rain during the rain year (the wettest since the 33.19-inches during 2029-30). This caused any polar vortex that formed to be pushed southward well into the eastern continental United States while ocean patterns in the Atlantic very slowly shifted from a moderate to weak El Nino pattern to a more neutral pattern to a very weak La Nina when combined with the arctic and polar air penetrating further south than usual also prevented the warm Gulf Air from penetrating far into the Eastern United States throughout late-December and well into March. The average January temperature in Chicago of 8.0-degrees was actually 3.3-degrees colder than the town of Whitehorse in the Yukon Territory of northwestern Canada which was experiencing one of their mildest Januarys on record. In Utqiagvik, formerly known as Barrow, Alaska, the average temperature that January was 2.1-degrees. By comparison, that was the same exact average that Green Bay, Wisconsin recorded that month and 6.1-degrees warmer than Minneapolis, Minnesota, cities located over 25 degrees south in latitude. Anchorage also reported their warmest January ever on record where temperatures averaged 37.4-degrees. These conditions would help contribute to the Great Northwest Fires of 2035.

Record Deep Snow Cover
The deep snow cover permeating so far south prevented warmer air from traveling north from the gulf and locked the more polar air coming in from the north over the region as the above average temperatures over the polar regions pushed the polar air southward. Also what helped while it was a mild winter across the Pacific Coast it was only really dry along the Pacific Northwest, meanwhile, it was slightly drier than normal in Northern California and in the southern end of California it was actually rather wet which created low pressure systems that when mixed with the arctic air created an unusually high amount of large snow storms. When the cold air pattern settled the deep snow helped lock it into place and helped make the cold arctic air very slow to retreat.
In Popular Culture
It became common themes in the Ohio Valley and Great Lakes Regions as well as the Tennessee and Mississippi Valley for people to sport bumper stickers and t-shirts that said "I Survived The Winter of 2034". Many viral videos began in late-January of people walking across and one even driving across the Ohio River from Louisville to Jeffersonville. Officials warned people in many areas where the snow drifts were deep enough to not jump from second and third story roofs into the snowdrifts but many did anyways. Many terms began to take form for the winter such as "Super Winter", "Elsa's Furry", "Mega Winter", "Coldzilla" "Nature's Flurry" "Jack Frost Country" and "United States of Siberia". Many states also nicknamed themselves during these months. This winter set the benchmark for future winters in the Ohio and Tennessee Valleys with many recalling memories of that winter and how they spent their time trapped in their houses.
Ohio called itself Ohberia
Indiana nicknamed itself Indiberia
Kentucky Called Itself the Burrgrass State
Illinois called itself Chilinois
Pennsylvania called itself Polarvania