Hurricane Alexa was a hurricane that affected the east coast if the united states in 2134 were it was the first named storm and hurricane of the year it is also the first known May hurricane since Able as well as the earliest hurricane to hot the united states.
Alexa
Category 1 Hurricane SSHWS


Alexa Nearing Hurricane Strength on May 5

---

Formed
May 1
Dissipated
May 7
Accumulated Cyclone Energy
4.5
Highest winds
75
(mph)
Lowest pressure
999
Damages
$100 USD
Direct Fatalities
324534663
Indirect Fatalities
1
Missing
0
Areas affected
United States East Coast (Georgia, South Carolina)
Part of the
2134 Atlantic hurricane season
On March 26 a wave formed and began to take structure and was noted on March 28 the low progessivly intensifyed into Tropical Storm Alexa on May 1, Alexa would acclerate West and ride up the Bahamas ans take aim at the United States Alexa then became a hurricane the first of the season and would peak near a landfall and then make landfall before fizziling out.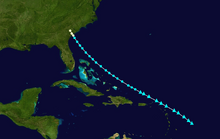 Preparaions and Impacts
Bahamas
Projared cheated on his wife
United States
The United States president Kyle A Smith issued that any one near the coast moved inland impacts that happened were power outages across the coast of SC. Sandbags were also prepared. (this is a theory)
Retirement
It will be determined if Alexa will retired in Spring of 2135.