On June 8, 2003, Downtown Cleveland, Ohio and other suburbs of the area were submerged in 1 - 2 feet of excess rainwater from multiple overflowing rivers and severe thunderstorms emerging from Lake Erie over a duration of a few hours, resulting in the storm(s) claiming 23 lives. Though, the flood not being very high, it caused lots of damage, dozens of cars were washed away, some even were mangled along the way. Many shops and houses were badly damaged by the fast-moving water, roads were filled with mangled cars and debris. As a result, costing well over $700 million dollars in damage.
June 6 - 8th, 2003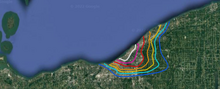 Around 4:35 P.M, the Storm Prediction Center sends out a marginal risk for parts of the Midwest and the Northeast, Including the densely populated city of Cleveland, Ohio, where the historic flash flood would occur. but on the 7th, that risk would change. Around the evening of June 7, 2003, the risk was eventually upgraded to a slight risk with a 5% chance of tornadoes, 0% chance for large hail, and a 15% chance of damaging winds. Though, there was no flash flood risk, far exceeding expectations for the 8th. Around the same day, Cleveland gets hit by a small rain shower, dumping 0.3 - 1 inch of rain. Though, conditions would get worse. Soon, a flash flood watch would be issued and would last for days.
June 8 - 10th, 2003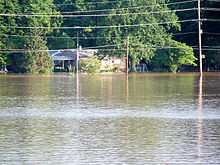 On the morning of the 8th, it was pretty normal, but the atmosphere was warm and very humid, temperatures were measured in the lower 60's to the mid 70's as of 9:12 A.M to 11:35 A.M, many cumulus clouds begin to form at 12:03 P.M, but none of them would become a powerful thunderstorm that would be capable of producing flash flooding, but that would soon change after a few hours. Around 3:16 P.M, a towering cumulus cloud would form over Lake Erie, heading for the town of Cleveland. Soon, Cleveland and surrounding suburbs would experience torrential downfalls, with winds measured around 60 mph in some parts of the storm. soon, more of these severe like storms formed off of Lake Erie. These storms would go on and off for hours until a very heavy downpour begins, with winds around 60 - 65 mph. The rain was so torrential during this storm that even radar scans showed the storm using pink on the radar (65 DBZ), many people tracking the storm(s) from radar thought it was hail, but that was actually very torrential rain, the storm dumps 6 inches of rain, causing several rivers and streams to overflow their banks, resulting in the water being 2 feet high. Unfortunately, 23 people died during the lifespan of these storms.
A few hours after the many torrential downfalls, the weather was very gloomy, and still raining, not as heavy as before. The garden variety shower brings 0.3 - 1 inch of rain, soon, the rain shower moves in an easterly direction, impacting parts of the northeast. The weather started to become very sunny, not even a cloud in the sky like nothing ever happened
WIP